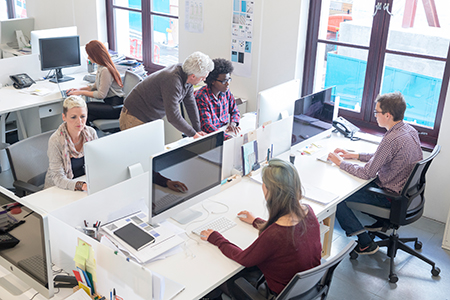 While the evolution of online marketing research has resulted in the decline of paper surveys over the years, Tab House continues to offer manual data entry of surveys to those clients in need. We have manually entered thousands of mail-out surveys for a variety of large and small scale studies.
Paper surveys requiring data entry are keyed at Tab House by a highly trained data entry staff. To ensure accuracy, entry fields are pre-programmed to specify allowable input data on a column by column basis. Data is then re-keyed (verified) again to ensure a greater degree of accuracy. Following "Verification", the database is "custom cleaned" to ensure logic, proper skip patterns, proper counts, field ranges in numeric questions, and so on.
Data can be entered in a multi-punch column-binary format, or in a single-punch ASCII format. Once keyed, the data can be converted into any type of format desired, for those clients requiring raw data files. Data can also be merged with other external databases originating from on-line or CATI surveys.
Data Entry at a glance:
Single/Multi Punch
Up to 100% Verification
Custom Cleaning of Data
Column Binary Files
ASCII Files
Excel Files
Delimited Files (Comma/Tab/Space/Semicolon)
Conversion to/from SPSS, E-Tabs, Excel, dBase, Access, Lotus and others
Merge with External Databases
Data entry of open-ended verbatims
And much more…